How To Get A Scholarship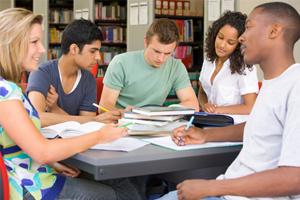 Over 3 million scholarships worth $16 billion are available in the United States according to Sallie Mae, the leading financial services outfit in the U.S. devoted to education.
A small piece of that total could send you to college. You can definitely win some of it! You just have to be willing to follow steps successful scholarship winners take. Rewards are great: a college degree with all its benefits, without a huge debt burden when you graduate.
The winning process isn't rocket science. You can learn it and follow it without paying any fees, and without wasting time seeking and sorting out tons of information. Read on for simple explanations of what scholarship are, who awards them, who can win them, and a few misconceptions to understand. Then get started on this exciting journey!
Scholarships Are For Everyone
Unlike grants and other forms of financial aid, you can qualify for and win a scholarship regardless of your income level. In fact in 2010, students from the same percentage of families making less than $50,000, and those earning over $100,000, received scholarships. So regardless of how large or small your family income, you should be pursuing scholarships. Remember, a scholarship is an award of money that you never have to repay! Some key things to know:
Who gives out scholarships?
That's one of the great things about them – they are awarded not just by individual colleges and universities but also by some fraternities and sororities, some individual departments, school alumni, and other groups connected to each school. And that's just the beginning. Professional associations that want to encourage students to enter their field offer scholarships, as do national service organizations like the Rotary Club, Lions, and many more. Local civic organizations, religious organizations, private companies and charitable foundations offer a wealth of scholarships as well. And remember, we offer a monthly drawing for a $100 scholarship drawing – you just have to sign up to win, no essay required!
Who Can Win Scholarships?
The next great thing about scholarships: anyone can win one, and often many more than one. Not everyone can win every scholarship though – the trick is to find the ones you qualify for and go after them. Remember, there are more than three million scholarships available in the U.S. – and they're not all for brilliant scholars or virtuoso violinists.
What are some common misconceptions about Scholarships?
There are lots of misconceptions about Scholarships, but here are two critical ones you should understand right now:
You can't get both scholarships and financial aid. This is totally untrue! There are different qualifications for these two sources of aid, but you should definitely be pursuing both.
You have to be a top student to win a scholarship. False. Not every scholarship requires a high GPA and lots of students miss out by thinking they shouldn't apply. You'll even have a distinct advantage over others when you discover our easy Scholarship Application Secrets!
Get Started Now!
The sooner you begin and the more organized you are, the greater the chance that you can win lots of financial assistance to continue your schooling. To get off to a good start, go to our article called Scholarship Search Tips and discover the way to find the scholarships right for you.